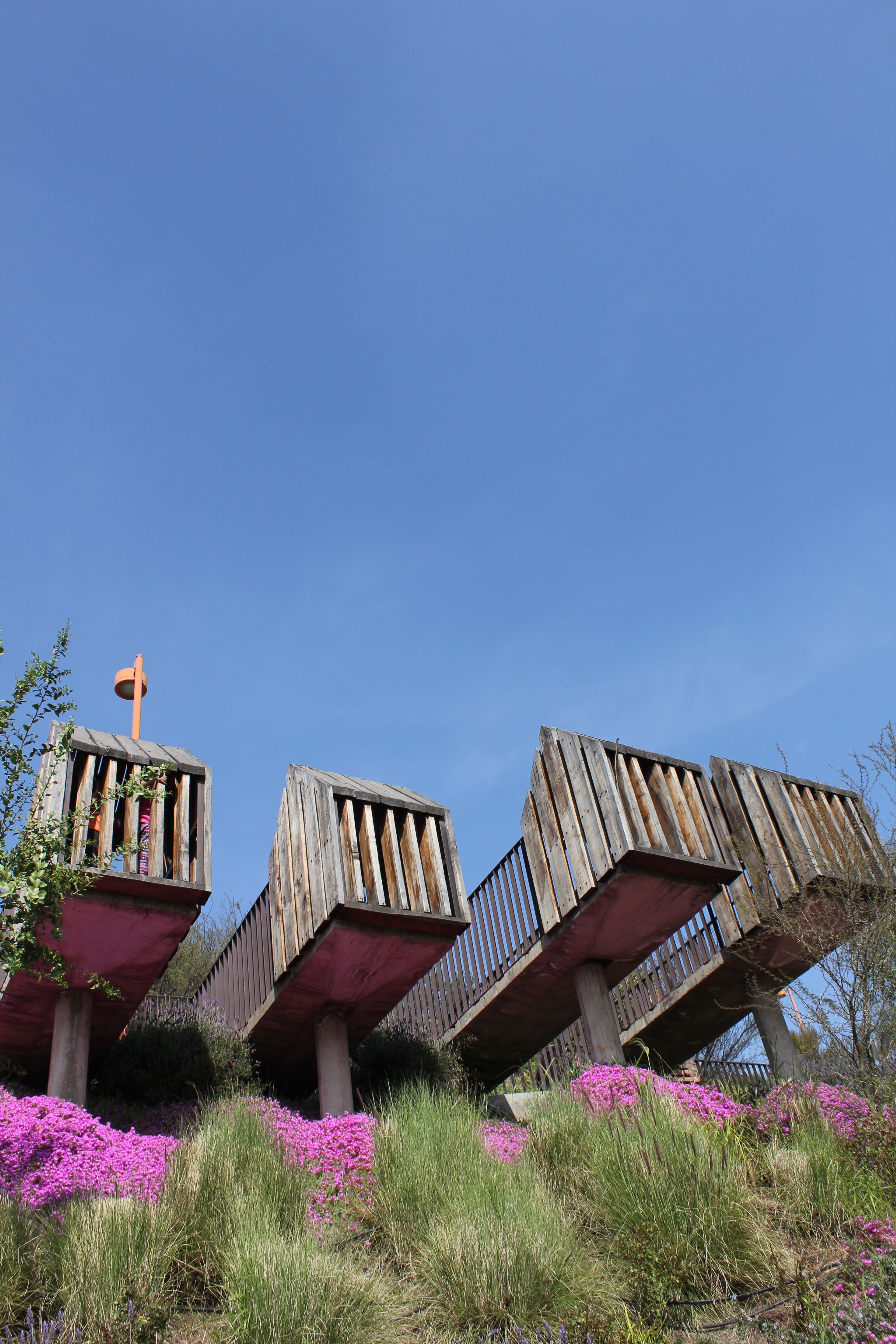 Este lugar con más de 9.000 m2 de áreas verdes integradas al parque San Cristobal, forma parte del tercer parque urbano más grande del mundo. En su propuesta se despliegan una serie de juegos y recorridos, como lo son casas-árbol, los cuales en un interesante diseño paisajístico, se integran a preciosos senderos de plantas, flores y árboles.
En medio del camino, se encuentran las esferas "burbujas", desde las cuales brota agua para el goce de los visitantes en los días de calor, pero sin lugar a dudas, una de los aspectos más novedosos de este lugar, son los 60 toboganes de hormigón, emplazados en todo la pendiente superior del cerro, desde los cuales se puede generar un lúdico recorrido, desde las alturas hacia abajo.
El parque cuenta además con un ascensor funicular gratuito, que da la experiencia de una vista privilegiada del parque y que en su llegada a la cima, conecta a los pasajeros con el Sendero Rústico que lleva hacia el Zoológico Nacional. Sin duda uno de los paseos imperdibles de la capital para esta primavera.
This place, which has over 9,000 m2 of green areas integrated into the San Cristobal Park, is the third largest urban park in the world. Its offers a number of games and paths, such as treehouses, which through interesting landscaping techniques, become one with beautiful paths decorated with plants, flowers, and trees.
Half-way through the path, you can find "bubble" spheres that splash water for the enjoyment of visitors during hot days. However, without a doubt, among the most innovative features of this place are the 60 slides made of concrete located on the highest slope of the hill, from which you may take a playful ride, from top to bottom.
In addition, the park has a free cable-car elevator that offers a privileged view of the prk. When the elevator finally reaches the top, the visitors are lead onto the Rustic Path, which guides visitors to the National Zoo. Without a doubt, this is one of the essential trips that the capital offers during spring.
Este lugar tem mais de 9.000m2 de espaços verdes incorporados ao parque San Cristobal, e parte do terceiro maior parque urbano do mundo. Na sua proposta, tem uma série de brinquedos de praça e percursos como casas nas árvores,
os quais num desenho paisagístico interessante misturam se com formosos caminhos de plantas, flores e árvores.
Na metade do caminho, podemos encontrar as esferas "bolhas", desde as quais a água brota para delícia dos visitantes nos dias quentes, mas, sem dúvida, um dos elementos mais inovadores deste lugar é os 60 tobogãs de concreto, colocados na ladeira superior do morro, desde onde pode se gerar um divertido passeio, de cima.
Além disso, o parque tem um funicular gratuito que entrega a experiência de ter uma vista privilegiada do parque e que na cima, conecta aos passageiros com o Sendero Rústico que leva ao Zoológico Nacional. Sem dúvida, um dos lugares que você deve visitar na capital nesta primavera.
DIRECCIÓN:
AV. PERÚ 1001, RECOLETA
REGIÓN METROPOLITANA