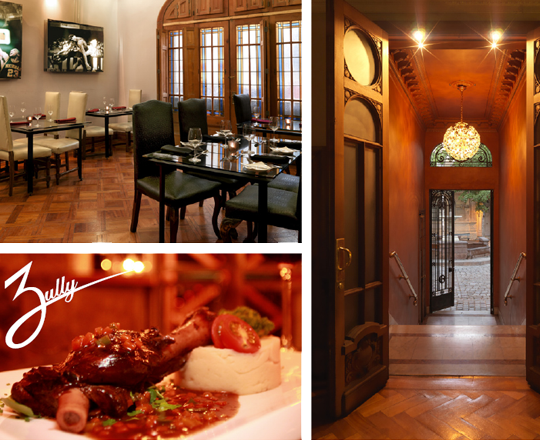 Ubicado en uno de los barrios más históricos y pintorescos de Santiago, el barrio Concha y Toro, este restaurante encanta en cada detalle. Con cuartos privados para cenar, cada uno especialmente decorado con distintas temáticas, Zully es un lugar que enamora a todos quienes lo visitan. Sus platos, que contemplan principalmente una gastronomía internacional, junto con la cálida atención de su personal, permiten pasar una velada íntima en un sector con arquitectura clásica de principios del siglo XX.
Located in one of the most historic and picturesque neighborhoods in Santiago (Barrio Concha y Toro), this restaurants delights in every aspect. With private dining rooms, each one specially decorated with different themes, Zully is a place that all of its visitors fall in love with. Its dishes, which mainly consist of international cuisine, along with the warm service from its staff, allow you to spend an intimate evening in a sector with classical architecture from the beginning of the 20th century.
Situado em um dos bairros mais históricos e pitorescos de Santiago, o bairro Concha y Toro, este restaurante deleita em cada detalhe. Com habitações privadas para jantar, cada uma especialmente decorada com temáticas diferentes, Zully é o local que apaixona a todos quem o visitam. Os seus pratos, principalmente da gastronomia internacional, junto com o aconchegante atendimento do seu pessoal, permitem passar uma noitada íntima em um setor de arquitetura clássica do começo do século XX.
Restaurant Zully – www.zully.cl
Concha y Toro 34, Santiago Centro (Metro República)
2696 1378